We have been hosting a NYE party for maybe 11 years at this point. It started when our kids were so small and tiny that they could barely make it awake until 9pm when we celebrated with the East Coast.
This year we said goodnight after 2am. Things have changed…
But one thing that doesn't change is how much fun it is to have everyone getting together to celebrate the turning of a year! Sure there are fancy ADULT only ways to do this, but I'll pick our chaos and crazy nights all together over that any day.
Here's the rundown of my BEST tips for hosting your own epic New Years Party for the full crew and some of my favorite moments from over the years.
New Years Eve Party for Kids
When you have little kids in tow for NYE it's important to make the party something they'll enjoy alongside their family. Here are some easy ways to include even the littlest friends.
Celebrate early
When you're hosting a New Year's Eve party with little kids around, especially if you're kind of in that 10 and under crowd. You should definitely celebrate early!
It's one of the things we do every year and has allowed us to celebrate New Years and make it a really fun memory even for littles. We do this by celebrating with New York because we're on the west coast. You can pick whatever timezone you want based on where you live and the kids bedtimes.
When the kids were little we would do the whole huge New Years hoopla at 9pm. We'd have the celebration and everybody can go home to get their kids to sleep.
As the kids have gotten older we've changed this, but I still think it is such a great thing that now we do at 9pm and also a midnight ball drop for the older kids who can hang that late. You can easily stream the New York City ball drop through the laptop or the TV to be able to celebrate with East Coast and make it feel real when they celebrate.
Have crafts on hand
Having easy crafts on hand is also a great way to engage younger kids into the party. Something that they can do with their hands, helps them to not just go crazy all night and it allows them to take home something fun to remember the party.
We've done this in the past having different craft stations to make bracelets, necklace and even glasses. This year we did pipe cleaner crowns and it was really fun to see what all the kids created.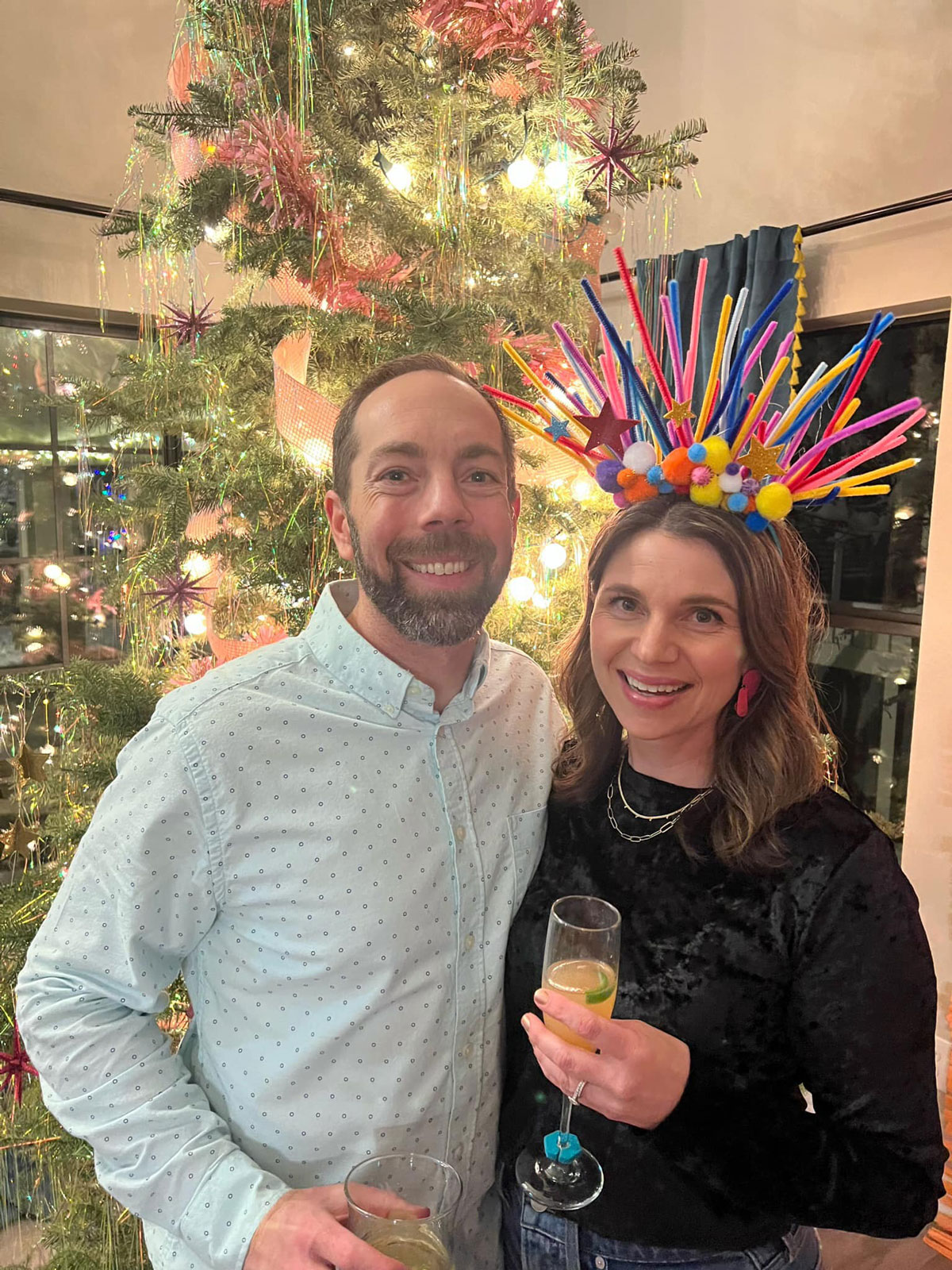 Small bottles work better than glasses
Little kids have a tendency to easily spill things we obviously don't want to give them real glasses because that would create a major problem when they drop them.
I've also found over the years that the plastic champagne glasses don't work great for little hands, as they easily come apart. Even the best quality ones tip over very fast!
I's not a great plan for kids who have tipsy hands. 😉 Instead I buy the little bottles of Martinelli's, they can be dressed up and made festive and it's a great way to make sure that the kids can celebrate with their own sparkling drink, while ensuring you will not be mopping the floor all evening long.
Have a separate kids food table
To make sure all these kids eat food and not just treats we have set up a separate kid's table. We put food here that's easy to grab. Here are some quick ideas:
Little Kings Roll sandwiches
Cheese sticks
Edamame
Tiny meatballs
This way the kids can grab food without having to try to manage plates and forks. It also allows us to get a little bit fancier and more fun food for the adults.
Piñata's are fun
Piñata's are always a good idea! We've doe a NYE piñata a couple times using a star shaped piñata and filling it with candy and little treats and toys. This is a great way to get little kids involved in the party and having fun.
Sparklers
Sparklers are easy enough for most little kids to use with parents help. They just make such a fun night and we learned this year you can even do them in the snow!
New Years Eve Party Ideas For Teens
When setting up a New Year's Eve party that's gonna have teens involved. I like to think through how to make it a fun event for the whole family, but also something that the teens will be excited to invite their friends too. After all if they are safe in my house at midnight… it's worth the effort!
Dance floor fun
One of the best ways to do this is by creating a dance floor.
We move all of the furniture out of our largest room (just stick in the garage for the night) and set a playlist to run through our speakers. We get the night going with songs our teens help pick out which gets them excited. We will often have a full on dance party going before long. The parents and the kids dance with the music going throughout the night.
Crafting station with style
Crafting is still something that everybody loves to do, even those teenagers. This year we had everyone make these fun pipe cleaner crowns and it was a huge hit with the teen girl crowd. They loved making them and personalizing them to wear them all night long. You can see the DIY and our craft station set up right here.
Have a fun party game & include them with the adults
If you're having teens at any party, they're going to want to be included in what the adults are doing.
It's always fun for the adults to play a party game and the more you can include your kids in this the better!
We play a rousing game of LCR Wild every year (it's a fun new version of left center right which you can buy right here). It's on of our family's favorite games. Everybody puts in $3 and we do a girls game and a separate guys game, the kids get to play with the adults and it's a highlight of the night for everyone involved.
Fireworks if they're legal where you live, or sparklers
If fireworks are allowed where you're living, you could definitely do fireworks outside and your teens will love this! If not, every teen I know loves to have that great NYE photo of them with the sparkler in their face to welcome in the new year.
Fun food & let them use the fancy glasses
Having fun creative treats is always a win!
We've done donut cakes, bundt cakes and this year we had gorgeous designed colorful cookies! Any sweet that brings the everyday treat up a notch is a great plan.
Our teens like to get involved in what the parents are doing and some of that is by being able to use the fancy stuff just like mom. I have gone out and bought really affordable champagne glasses for all the adults and all the kids which are fun and easy to use for parties. I just keep them stored and pull them out at NYE so that every teen gets their sparkling cider in a fancy glass just like the adults.
A good tip for this is to put different drink markers on the teens glasses… just to make sure the glasses don't get confused.
Making New Years Eve Festive For Everyone
Decor is important
For everyone who ever is being invited to New Year's Eve party. You want to make it a night that's memorable and fun. Decor is super important for setting the tone for your night.
This year we did a "cheers to a bright new year" theme.
I had a whole bunch of bright decor and we did these big crepe paper streamers you can find the DIY right here on how to make them. Such a huge statement for a little bit of work.
We do balloons which are easy to grab off Amazon, NYE banners and garlands. I also love the labels and cute flags that Thread Mama provides every year. To use them, you just download the file and can print them at your local Staples. It's a great way to incorporate some fun decor that you don't have to store for the next year.
A New Year tree
I am never ready to take down my Christmas tree for our New Year's party. So I've taken to making it into a New Year's tree. We've done this a couple of years now I think this year was my favorites.
Took off all of the vintage Christmas ornaments and the reds and the greens and it was replaced with pink and stars and tinsel that set the whole vibe for festive New Year fun and I enjoyed it the full week afterwards.
Make a batch cocktail
I make a batch cocktail every year. We have done French 75's in the past, Gin Palomas and this year I used this recipe and made Earl Grey Old Fashions which were a huge hit.
Confetti Cannons are always worth the mess they make
Lastly, confetti cannons. Of course your NYE should go off with a bang!
I just love the tradition of using these confetti cannons that shoot colorful fun confetti into the air.
I suggest you have one for each adult or as many as you think you can handle, the more the merrier in my book! You're gonna be cleaning up confetti either way – you might as well just go big with it!
This is by far the favorite thing that we do for everyone from kids to adults to celebrate the New Years. We set off the confetti cannons and then spend the next two hours dancing in the confetti, throwing the confetti up, taking boomerangs with the confetti etc. It really becomes such a statement of going out with a bang and the new year coming in with a colorful burst of fun.
What are your NYE party traditions? I'd love to know.