Inside: Best things to do in Reno with teens in tow.
Traveling is most fun when you are out with your family, but with kids of different ages, it can be a little difficult to find activities that everyone can enjoy.
Sometimes things that I like to do on a trip, such as sitting an enjoying the silence of the day is just not fun for my enthusiastic, packed-with-energy teens. Our teens can often have very different expectations of a trip, so it is important to research a city before deciding to go and get the best info that your own teenagers will actually enjoy.
On that note, Reno in Nevada, AKA my favorite city in the world… is becoming much more of a tourist sports these days. This beautiful city, located in the northwest section of the US, has recently attracted a lot of families, teens and youngsters alike.
Reno is situated at the California-Nevada border and is knowns as "The biggest little city in the world"! Although often famous for its casinos and shining neon lights – I'm excited to show you what some of my favorite things to do are in this city that you & your teens will enjoy.
If you are planning a trip to Reno with your family, this article is just for you. Here are fun things to do and places to visit in Reno with teens.
Places to Visit and Things to Do in Reno with Teens
1. Reno with Teens: Stroll at the Riverwalk District
The Riverwalk district is located in the heart of downtown Reno and is the perfect place for youngsters and teenagers to visit. The Riverwalk district is full of entertaining stuff and always has something fun going on. The district features shops, cafes, bistros, taverns, and cute bridges to get those pretty social media shots with the Truckee River in the backdrop.
There is also a movie theatre which famously plays all the latest movies, but if your teens enjoy live entertainment, they also have the option of comedy shows, concerts and plays at the Pioneer Center.
The best thing about the riverwalk district is its aesthetically a beautiful part of the city. Especially in the fall when the leaves are changing, and in the spring with the bloom, also right after a good snow it is gorgeous. Kids these days love visiting Instagram-worthy locations, and the riverwalk district is full of spots that would make a great selfie or photo background. If your teens are anything like mine, they'll for sure enjoy taking pictures with the colorful murals, the Reno Arch and the always creative burning man sculptures that have become famous worldwide through social media.
Be sure to stop for a coffee at the Hub while enjoying the river and a chocolate or rolled ice cream at the cutest sweet shop next door.
If you find yourself hungry while in the area The Eddy has food trucks, beer and outdoor games the whole family can play. Or pop into my favorite restaurant Liberty and try their Bee Sting pizza!
2.  Explore the Museums
Museums may not seem like the ideal place for teenagers, but when it's the National Automobile Museum, we doubt any teen would like to miss out on this one. If your teen is a car fanatic and would love to explore more about automobiles, their history and different models – this is the perfect place for them.
In this museum, you can easily spend hours walking around, looking at the historic and absolutely amazing collection of vehicles. The museum actually features a diverse collection of over 224 absolutely stunning vehicles from throughout history.
The other museum my teens and I love visiting is The Nevada Museum of Art which has some really amazing exhibits come through. You can check out what artists are next to be featured here. After looking at the art, be sure to get to the rooftop for a gorgeous view of the city and the surrounding Sierra Mountains.
When you're done with the River District…
3. Go Thrift Shopping In Midtown
If your teens are anything like mine, they love a good thrift shop. Lucky for you Reno has some really great ones! Junky is right down in Virginia Street in Midtown, and is by far one of the most fun shops to explore with teens, it has everything from discarded Burning Man gear, to cute dresses, to boas and there's a whole other side that has home goods and all kinds of fun stuff to find treasure within. We have spent an entire afternoon here before.
If you have a car and can drive just a little beyond then The Nest is another one of my favorite thrift shops. They have a pretty large & insanely awesome home section to explore while your teen shuffles through vintage jackets, boots and the like.
If your family is into music, pop into Recycled Records, which has used records that you can look at and listen to in the store.
All in all midtown is a fun area to walk around and poke into the thrift and not so thrifty shops. If it's nice you can stop for a break and enjoy a beverage outside sitting on the picnic benches of Craft Reno and maybe even find a unique bottle for you to take home as well.
4. Visit Rancharrah
Next on my list of best things to do with your teens right now is to go get lunch at Perenn and walk around The Village At Rancharrah. This is another really cute place to go and see unique shops. They have an awesome spa if you're interested in taking a little bit of a spa break with your teen. It's a really fun and beautiful space to enjoy on a nice day.
After lunch stroll around wandering the paths and stop to take gorgeous photos of the horses with the killer mountain view behind them. They have human size chess game outside and just it's just a really fun space to walk around and enjoy.
There's also great ice cream shop if you're looking for a little treat to eat on the way & one of our favorite restaurants Centro if you are needing dinner or drinks.
5. Get Out Into Nature
The next thing I would do with teens and Reno is to get out in nature ASAP!
It's one of the best things that we have going for us here in Reno, so definitely use some of your trip to make sure that you get out into some nature. Depending on the season you can snowshoe or ski if you enjoy skiing.
If it's summer you can hike. If you're going to go out hiking or snowshoeing, I 100% recommend going out to Chickadee Ridge. It's not far from town and it's the best hike around. It's uphill, so be warned… there are gorgeous views of Tahoe and you can even feed the birds at the top. Just bring a little bit of bird seed with you when you go up.
If you are interested in trying to snowshoeing and you need to rent a local store Bobo's rents them by the day to go up and explore outside. This is for sure a memory that you will not forget anytime soon with your team.
Local tip, if you are here to ski and are renting… Bobo's also beats the price at all the Tahoe ski resorts, so it's worth a stop in town to rent your gear.
6. Find The Festivals
Of course you want to make sure that you hit up wherever festivals are in town. So be sure to look at a list of yearly festivals before you come.
Here are a couple you'll want to be sure to check out:
Although I wouldn't suggest bring your teams to Burning Man;)… if you happen to be here in late August, it is really fun to see all of the crazy cars and costumed people out and around town on their way out of town.
7.    Reno with Teens:  Have Fun at Need 2 Speed
A trip to Reno and you don't visit the Need 2 Speed? Well, you should fix that for sure. It's an indoor karting venue to give you a kart racing experience that is fast and fun.
This is the perfect place to take your teenagers, as it is packed with fun activities for kids and youngsters of all ages. It is nothing like an ordinary amusement park featuring bumping cars, this premier karting venue features electric karts that can speed up to 45 mph!
This is ideal for your teens who would love to drive, but are still young for the road – these karts are perfect for thrill-seekers. If your teen is yet to visit somewhere to boost their adrenaline you need to take them to Need 2 Speed! It is open 7 days a week, so you don't have to worry about planning your trip around its times.
8. Don't Miss Out on the Grand Sierra Resort Center
Bowling may not be anything new for your teenager but finding a family place on a trip where you can have fun is always a win! The GSR is easily one of my favorite hotels in the area as there is something for everyone to do here. Escape rooms, golfing into a pond, a pool to jump into, movies, arcades and yes… even bowling, when a family bowling session is exactly what you need.
The resort host laser tag, an ice rink in the winter, bumper cars… literally anything to get you on your toes and have some fun. The most popular activity at the arcade is their virtual reality area which features various games such as a battle game with aliens and zombies. This place is literally a teenager hotspot in Reno and every teen visiting the city has to make a trip to this fun center at least once.
9. Visit the El Rancho Drive-in Movie Theater
For a fun family twist try out, the el-Rancho drive-in movie theatre. Teens always like something different than usual and would love to watch a movie at this theatre. You sit in your car's comfort, grab your favorite snacks and watch a fun movie with your family and friends.
When you are tired of walking around and exploring new places, this theatre is definitely going to help you get recharged!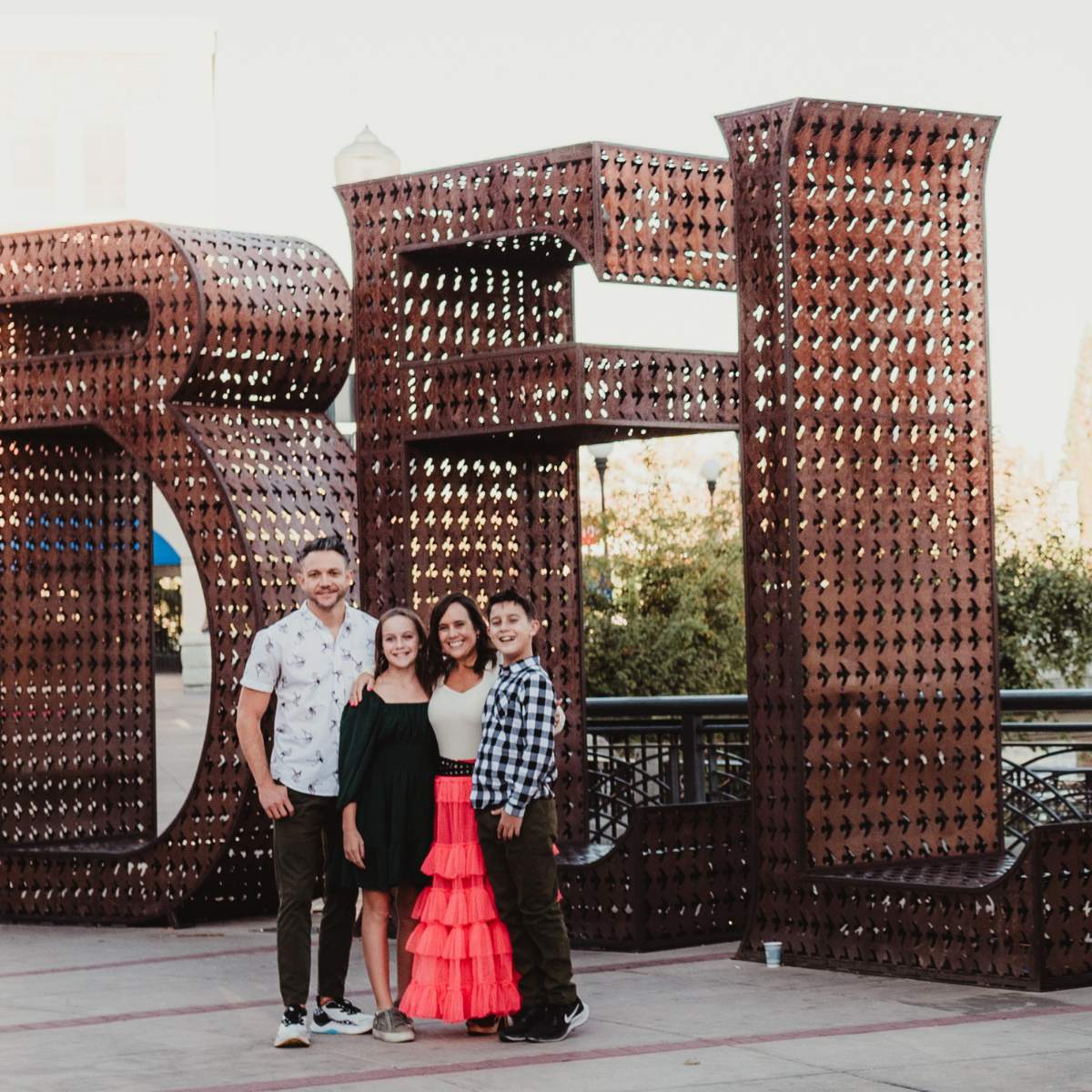 10. Rock Climb
For an adventurous teen, try you fun with rock climbing at Base Camp. There's an indoor gym to enjoy, but what is really special is the outdoor Big Wall which holds the Guinness Book Of World Records record as the Largest outdoor climbing wall and soars 164 feet over the city. It is not for the faint at heart and a fun challenge for any thrill seeking teen.
11. Hot Springs
Lastly on our list is to search out some of the natural hot springs around Reno. They'll be a fun addition to your relaxation and get you out into that nature we all love about this place.
Plan a Trip to Reno with Teens
Reno is a fun place to visit with your friends and family. If you are planning a trip with your teenagers, I hope these ideas are going to be very helpful for you.
In fact, it is better if you share this list with your kids even beforehand and get their input on what they want to do. This is always my #1 tip for traveling with teens – from Iceland to Mexico. Asking their thoughts will save you heartache later.