Inside: How to DIY built in bookshelves around window
DIY projects that take place in your home can seem complicated. But in reality, they can be done efficiently if you have the right guide by your side.
One such area of the home that people struggle to revamp and bring to life is their library or reading space. Most just stack a pile of books on the shelf and add a few plants and a chair to complete the look.
However, there is a way to take this up a notch and make your reading space a sight for sore eyes.
And that is by having built in bookshelves around window. Trust us, whoever sees this spot in your home is sure to be in awe. And, you can have it done without hiring an external service provider.
To get started on the DIY project of making a built in bookshelves around window, read ahead!
Getting Started – Things To Do First
A built in bookshelf is unlike any other bookshelf. Since it is built inside the wall, it comes with a lot to offer. It is something that can be made in half the time and within your desired budget with this easy Ikea hack and the end result is quite worth it.
When engaging in any DIY project it is important to de-clutter the space. Remove all items from the room and give it a good clean. Store your books in a cardboard box and give away or donate those which are no longer needed.
Moreover, having built in bookshelves around window also has a lot of benefits to offer. Here are a few of them:
Windows allow sunlight to enter the room. With bookshelves around the window, the contrast between the light coming in and the color of the books, reveals a dazzling display.
Takes up less space and leaves room for other furniture to be placed in the room.
Makes the room look aesthetically pleasing.
Helps create space for storing your books in a manner where they can be easily accessed.
Built in bookshelves around window help add depth and dimension to the room and are a luxury addition to your home. They can also increase the value of your living space.
Built In Bookshelves Around Window
Here is a brief overview of how you can make your built in bookshelf around the window look built in, even when it's really not 😉
Tools You Need:
Directions For Creating Your Own Ikea Hack Brimnes Bookshelf Built In
The first thing you want to do is measure the space around your window. You can draw the structure of the bookshelf on the wall using a pencil to get an idea of how much wood will be required along with the dimensions.  If you start to get overwhelmed, take a deep breath. Remember that you got this!
Next, pick up durable wood to build your bookshelves. You can buy wood from your local wood supplier and hammer it together to mimic the structure of a bookshelf using a drill bit, nails, and a hammer. You're going full bob-the-builder mode on this, but don't let this overwhelm you. Just think about how cute your bookshelves will be!
Instead of this – do it the Ikea hack way and buy these pre-made Brimnes bookshelves to create the built in look you're after without true carpenter skills. We used 2 full bookshelves and 1 cut in half to attach to the top taking the whole unit to the cieling for a truly built in look.
If the wood requires some trimming, you can use a saw to adjust the length as needed. Wood glue can also help make the bookshelves a lot more stable and although ours were a tight fit, I used wood glue to secure the units together.
Step Four – customize your built in bookshelves around window
Add a layer of primer followed by 2 to 3 layers of chalk paint. This will help make your bookshelf look like it has been made by a professional. I'm not kidding, it really does add such a fancy touch. Or if you are doing it the Ikea hack way, they are already painted! Done and done.
One thing we did with our faux DIY built in is to cover the back board of the bookcase with wallpaper which gave it a fun and custom look. To do this use stick and peel wallpaper, here's the one I used and attach it before putting the bookcase together.
Fix the bookshelf to your wall. You can use a drill bit to secure it in place – for this, you may need some extra help, so don't be afraid to ask for it.
Though this is a very simple DIY, there are certain parts that would be easier with extra hands.
Add your books onto the shelves along with a few décor items – make sure to place your books in a way where the weight is evenly distributed and balanced out. You don't want your shelves to fall or get warped!
Below we give you some more elements that you can add to your book shelve to make it seem like it's meant for the cover of a magazine.
It's so cool how much of a difference the little things make.
Additional Features To Make Your Built In Bookshelf Around Window Come To Life
You can add a few elements to make your built in bookshelf look even more aesthetically pleasing. These little touches make the world of a difference in the long run. Plus this is your opportunity to put some of your personality into your room through the art of decor!
Add vibrant plants beside the bookshelves.
Try not to overdo the books. Add a few décor items on some of the bookshelves to balance it out – keep them minimalistic
You can add a window seat below the window. Place a blanket and a few pillows here to make your at-home library space warm and cozy
Add a pretty oil diffuser in your reading space. Aromatherapy is great for de-stressing when combined with a reading session
Who To Get In Touch With
If you have no prior experience in executing DIY project for your home, then it's best to get in touch with a friend or family member who does. They can further assist you and guide you on how to go about it and where to find the tools needed. This is sure to help save you some time and make your DIY home project within your budget.
You can also place most of the orders for the tools needed to make the shelves or planks of wood online. Read up on the reviews first though, you don't want to get scammed for a low-quality product. Most people give very honest feedback so you'll know what you are getting.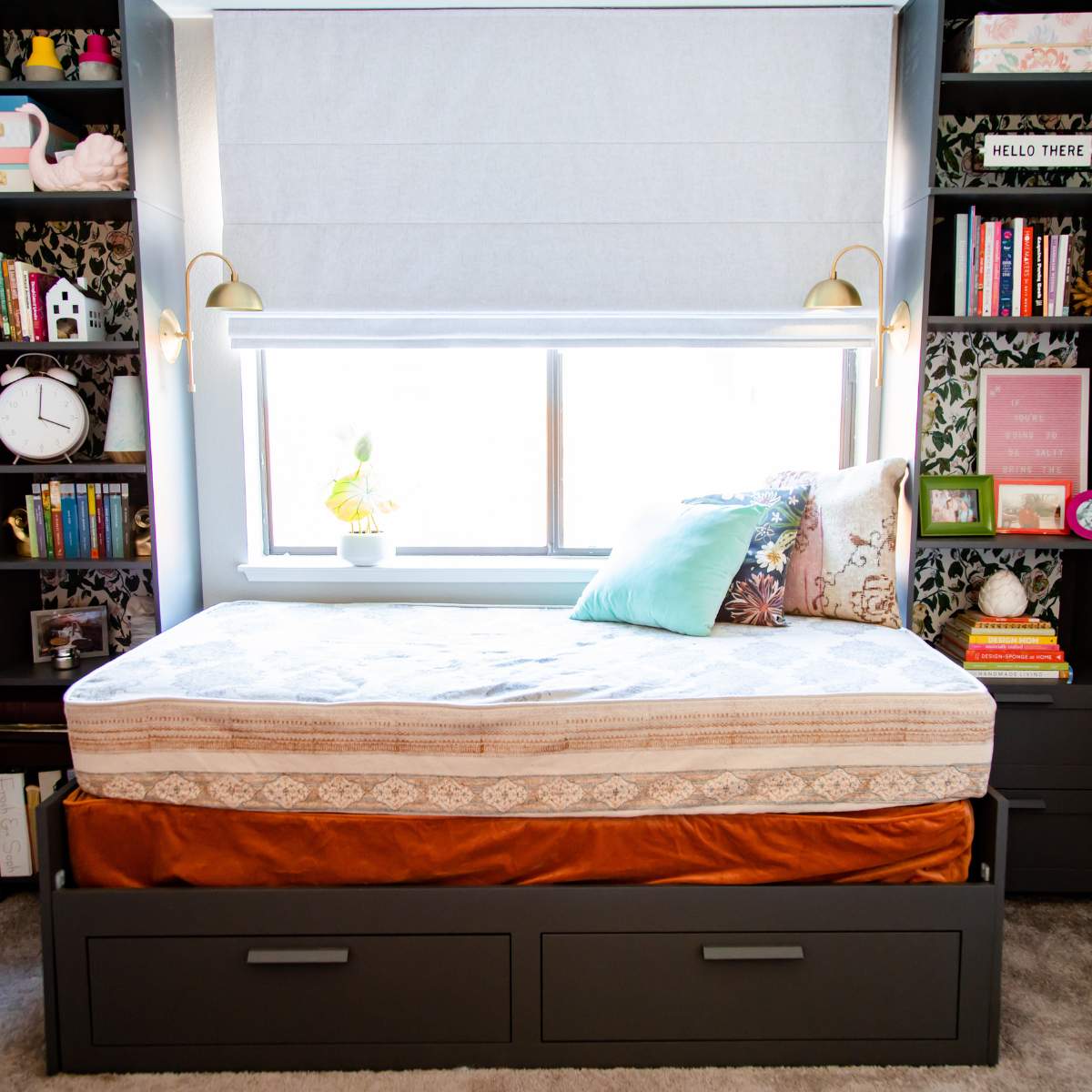 So, what are you waiting for? Get your tools ready and start on your built in bookshelves around window today! You can do your research and find the most affordable shelves near you or head to your favorite Ikea store to hack this bookcase around the window style with ease.
But, be sure to invest in something that are sturdy and durable. You don't want your bookshelves to collapse under the weight of the heavy books.
I can't wait to see the bookcases you create to solve that problem of where to put the books and bring your at-home library into the spotlight.