Inside: How to update your home with an entry closet makeover using pre-fab Ikea pax pieces to hack something that looks built in.
Is your closet boring and disorganized? Keeping a closet organized is complicated, with clothes and shoes jumbled up in one corner and cleaning supplies in another. Disorganized closets make it challenging to find things and are disorienting to look at.
There's a simple solution. If you do not like it, change it.
It may not sound effortless, but it is. All you need is an Ikea order, simple carpentry skills, a plan, and the will to change your organization system for the better.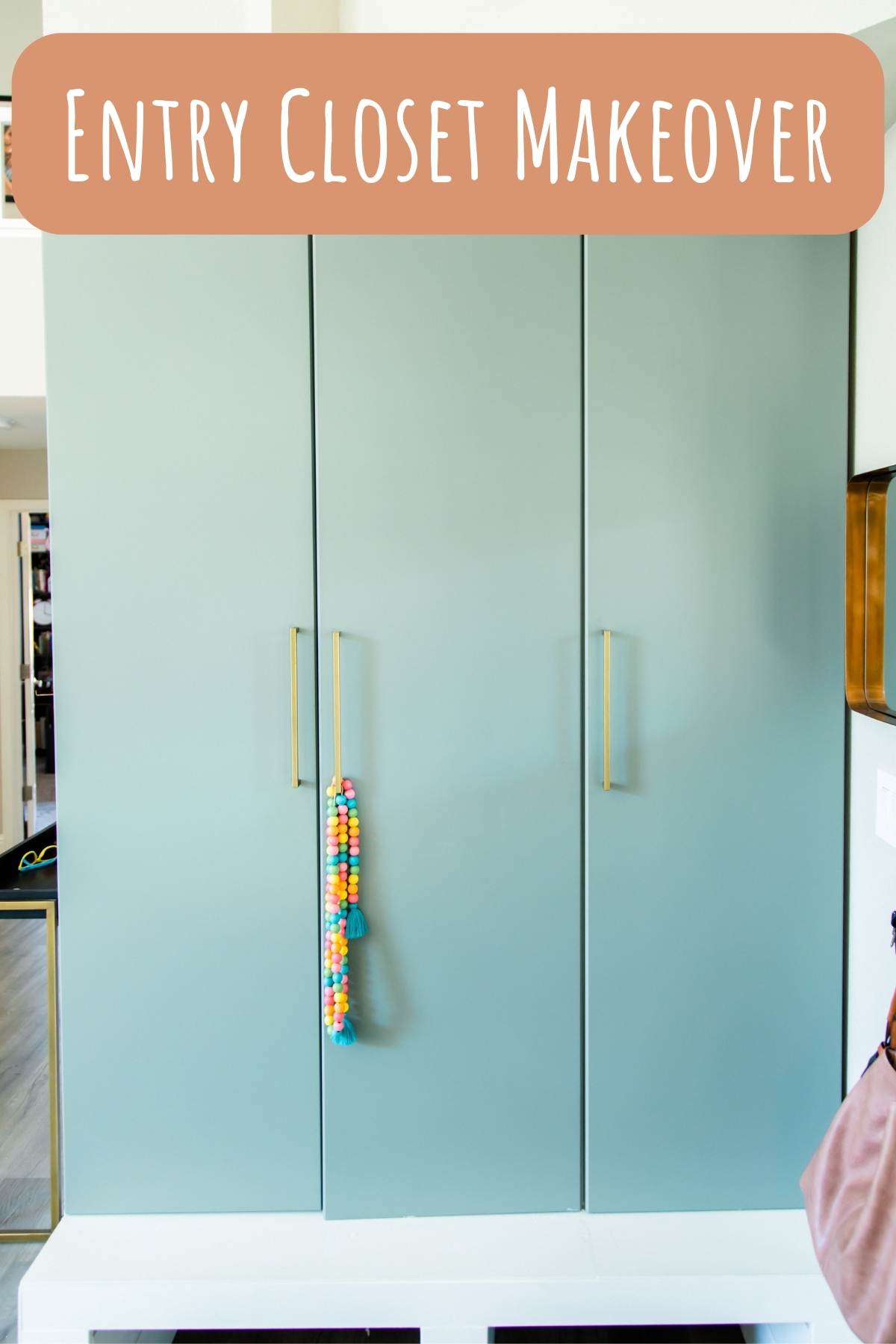 Read here to learn some tips and tricks for an entry closet makeover and make your closet look better than ever.
Three Steps to Get Started on an Entry Closet Makeover
An organized entryway closet is essential for an organized home. If your closet is disorganized, it will create many difficulties. It would make it hard to find things, make things untidy, and make you late in the morning.
A closet is essential to your entryway and the first thing you open after entering your house. A closet must be organized, accessible, and functional to make storing easier.
Step 1: Assess and Purge
Firstly, you need to pull everything out of the closet. Remove anything that doesn't belong.
If there is anything you do not need or anything that is broken, throw it away. Now, you need to evaluate the closet space. You must formulate a plan and consider the kind of closet you want.
It would be best to think about what you have now that will be placed in the closet and what you will have in the future—plan according to your needs.
Entry Closet Makeover – Step 2:  Plan
To plan your entryway closet makeover, you need to think about the things you have now and the things you will have in the future that will go into the closet.
Decide what color paint you want, how many shelves you want, what kind of material you should use, what other accessories you need to add, and how you will organize the closet space.
Before you decide on where what goes, think of the frequency of use and size. Things that are smaller and are required more frequently should come in the front.
Step 3: Get Creative
The whole purpose of an entryway closet makeover is to change the closet and make it better. Do not just go back to the boring design.
When you go through your entryway closet makeover, think about the storage capacity, accessibility, aesthetics, and ease of installation. Get crazy with your ideas. If it looks good and does not compromise the storage capacity of your entryway closet, add it in.
Ikea Pax Hack Closets For A Built In Entry Way
To create the look of this closet Ikea hack built in piece, we used:
2×4's and 4×4's for the bench frame
Simple crown molding for the top
white bead board for the sides
Paint to pull it all together
Front Door Closet Makeover DIY Instructions
1. Anytime I am doing an Ikea hack with pre-fab products, we start by putting them together. This is important for measurements and it's a good way to get a quick win when starting a project.
2. The next step was building out the entry closet bench. You can see above the basic structure that was built here. We used white beach board to finish it off and make the bench look like one seamless piece.
3. Next was attaching all the elements. We connected the closet doors together and connected the fully built closet to the base. It was a simple process, but definitely needed 2 people to get all the large closet sections into place correctly.
4. Next up was attaching the bead board to the sides of the closet and the crown molding to the top of the new entry closet to complete the makeover.
5. The last step was to paint and add the doors!
It was a quick project that has helped our front entry, mud room situation so much!
Six Fun Ideas for a Quick Entry Closet Makeover
Here are some things you could do to make your entryway closet snazzy. I know it can feel boring when you are cleaning and organizing, so this step is crucial to add some fun back into your project.
By adding some personal touches, you will be creating a little space that you are proud of. Your home reflects your personality, so make it as you as you can.
Bench Seat
A bench seat in your closet will have multiple functions, and it looks good too. It can double as a shelf and an area to sit on to take your shoes off, so you don't have to do the one-leg dance every time.
Measure the space in your closet your bench will go in and cut the appropriate size of wood. You can buy cedar boards and alter them to the perfect size, but you'll need a table saw. First, decide the height of the bench (go for 18 inches or higher).
Then cut a wood board into the size and attach it to the back wall. Then attach similar boards to the side walls. Finally, attach the front board, with both sides connected to the side boards. Use a support bracket to hold up the bench because you need to make sure the bench can hold the weight. Attach a small cuboid road to the front and back boards in the middle. Finally, lay down the wooden slab on the boards.
Hooks
Adding hooks to your closet can help it look more organized. All you need are five to six hooks and drywall screws. But if you hang heavy coats on your hooks, you might not want to screw them directly into the drywall. Screw a board into the wall and then use wood screws to hand the hooks.
Side Shelves
Many closets have shelves, but they are usually only at the top. The side of the closet is left entirely unattended. Especially if you have angled side walls, you can buy shelving units and attach them to the side of your closet. They will give you extra space and make your closet look tidy.
Storage Bins and Boxes
Storage bins help you store small things that would otherwise get lost in the closet, never to be found again. For an easy & affordable entry closet makeover go for fabric storage bins. They are mostly plain and not very stylish, but they give your closet an elegant and clean look. You can also buy storage boxes on the shelves and not clutter up the closet. Storage boxes can be fabric boxes or wicker boxes.
Tool Organizer
We all put brooms and cleaning equipment in our closets. But they fall or clutter up the space, which looks unclean. Tool organizers such as broom and brush holders can be attached to the back or side walls and hold your brooms in place.
There is nothing that will motivate you to clean less than going to grab for your broom and causing an avalanche of cleaning tools.
Shoe Rack
If you have a lot of shoes, you know how much of a hassle it is to organize them. Every morning before running out, you need to grab your shoes. Having a shoe rack can make that step a lot faster.
It also helps keeps your shoes in place. And if you have company over, it won't mean different pairs of shoes just lying-in front of the door. This is a win-win! Not to mention a cute and helpful idea.
Closet Rod
Closet rods can help you hand your clothes with a hanger in an organized manner, and you can arrange the clothes by color or frequency. It will also save on space to allow you to store other things.
If you have rain coats or sweaters that you wear only for certain times of the year, an entry closet it a great place to store them in the mean time.
How It's Going Now
I adore this entry closet makeover and we use it fully almost every single day! The addition of storage behind the doors and a spot for shoes has been a huge game changer in our home entrance space.
Remember to start an entryway closet makeover, the first things you need are the willpower and desire to change your closet into a more organized and gorgeous one.
Think about what you want your closet to look like and turn it into that – here is some of the inspiration I used along the way.
I love home improvement DIYs like this because you get to slowly create the home of your dreams. I know that sounds silly when we are talking about organizing a closet, but every small DIY comes together to form a home that is functional and beautiful for you.
And this one will surely have a bigger impact on your life and space than you could imagine. Next up, I'm crushing hard on my Ikea Pantry DIY.