DIY raised garden beds are a great way to grow your own produce and flowers, without having to worry about the quality of soil or invasive weeds and when I made them with cedar fence planks they were an affordable and easy project.
I love when you get a big bang for your DIY buck and that's exactly what these are. 🙂
They are also a great option for anyone with limited space who want an elevates gardening experience. In this inexpensive DIY tutorial, I will guide you on how to build a raised garden bed using wood fence planks and a few simple 2×4's.
I love how these beds have really pulled out small backyard come together & created a space for green pops of color to greet me daily.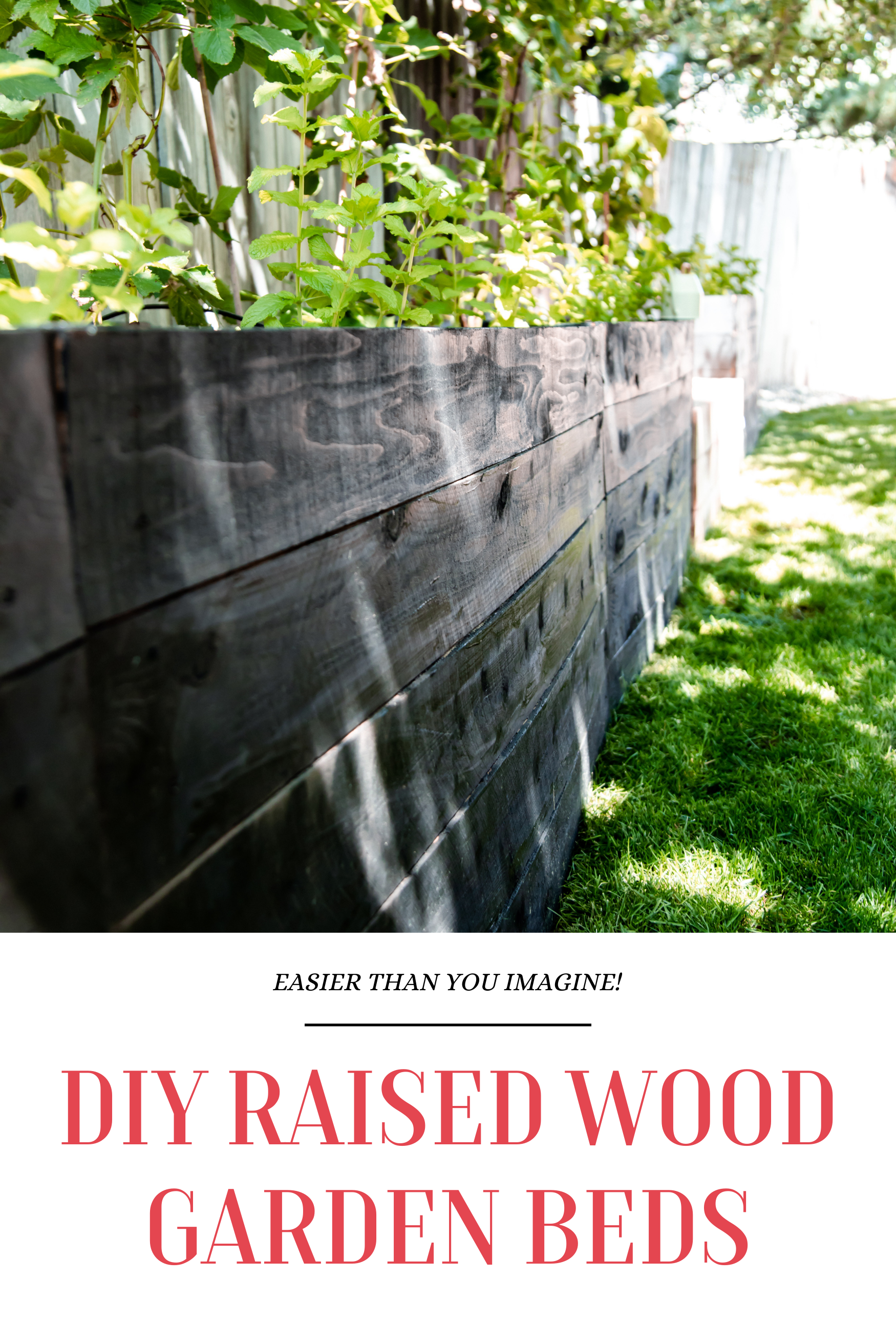 Why Create Raised Beds In The First Place?
Well, the first reason is because they look better than the lower to the ground beds for sure, but also here are some other benefits of having waist high raised garden beds:
Easier Access
One of the primary benefits of a waist high raised garden bed is that it provides easier access for gardeners. This is especially important for people who have mobility issues or disabilities, as it eliminates the need for bending and kneeling while tending to the plants.
Better Soil Quality
Raised garden beds typically have better soil quality than in-ground gardens because you have more control over the soil composition. You can add organic matter and nutrients to the soil as needed and even a layer of draining rocks like you'll see I did below, resulting in healthier plants and better veggie yields.
Pest Control
Raised garden beds can also be easier to protect from pests and rodents (although let's be honest squirrels can still get to everything;), the raised design makes it harder for yard creatures to access the plants. Win for your fruits & veggies!
Improved Drainage
Raised garden beds provide better drainage for plants, which can help prevent water logging and root rot. Additionally, the raised design can help prevent soil erosion and nutrient loss.
Aesthetic Appeal
Finally, waist high raised garden beds can be a great addition to any outdoor living space. Obviously the actual reason I created them, I love hoe these add visual interest and provide a beautiful display of my favorite plants and flowers.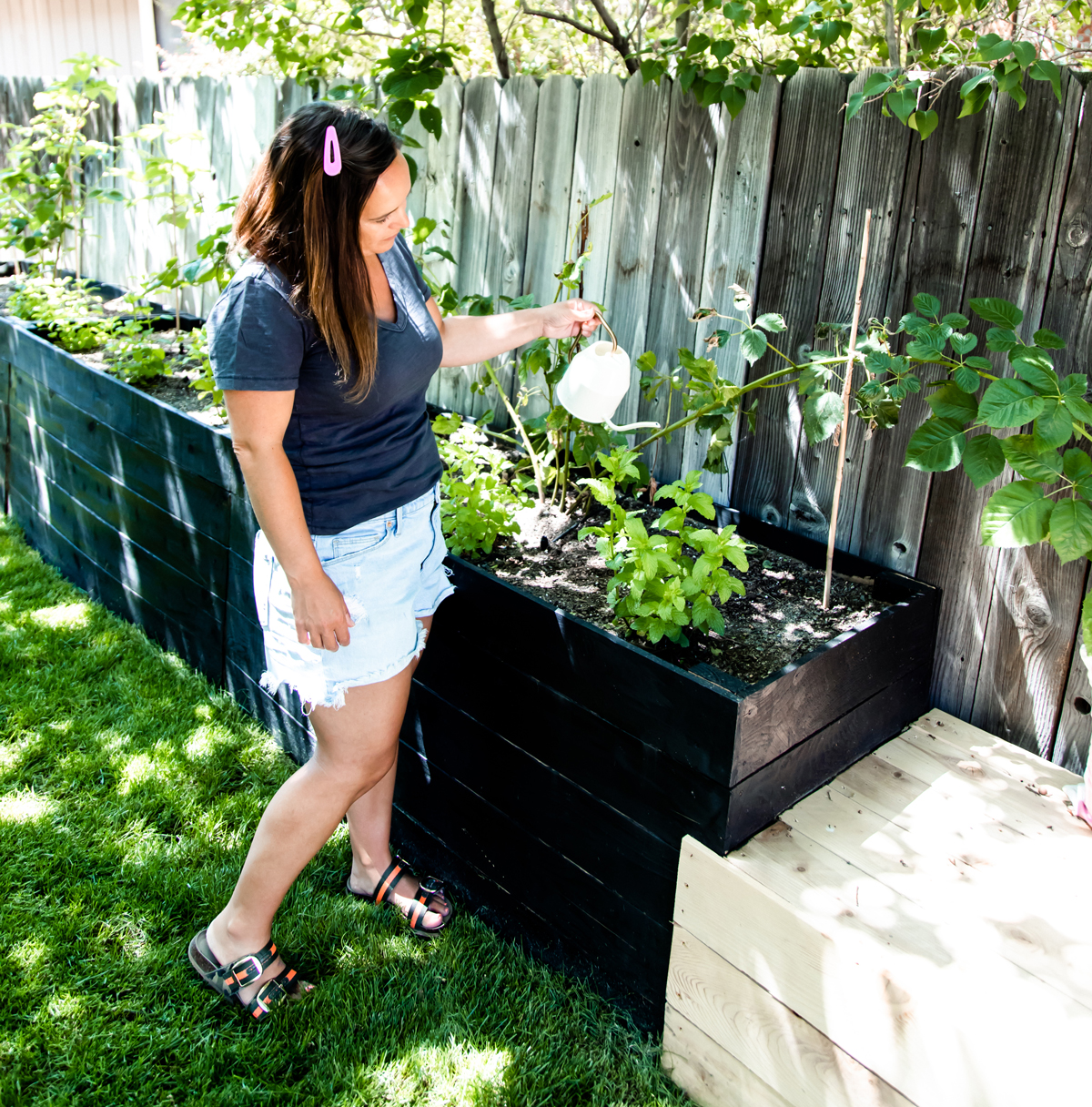 Printable Waist High Raised Garden Bed Plans
If you're interested in building a waist high raised garden bed, there are plenty of plans and designs available online. When looking for plans, make sure to consider the size of your space, the type of plants you want to grow, and your personal preferences.
If you want to print your own plans here are my favorite printable waist high raised garden bed plans:
Or you can follow my simple DIY instructions below.
Supply List
Fence Boards (2″ x 10″ or 2″ x 12″ is recommended)
2×4's for the corners
Nails (3″ to 4″ galvanized nails work best)
Hammer
Saw (circular saw or hand saw)
Measuring tape
Level
Soil & rocks (or any organic filling you want)
Compost
Mulch
Weed barrier
Wood stain & a brush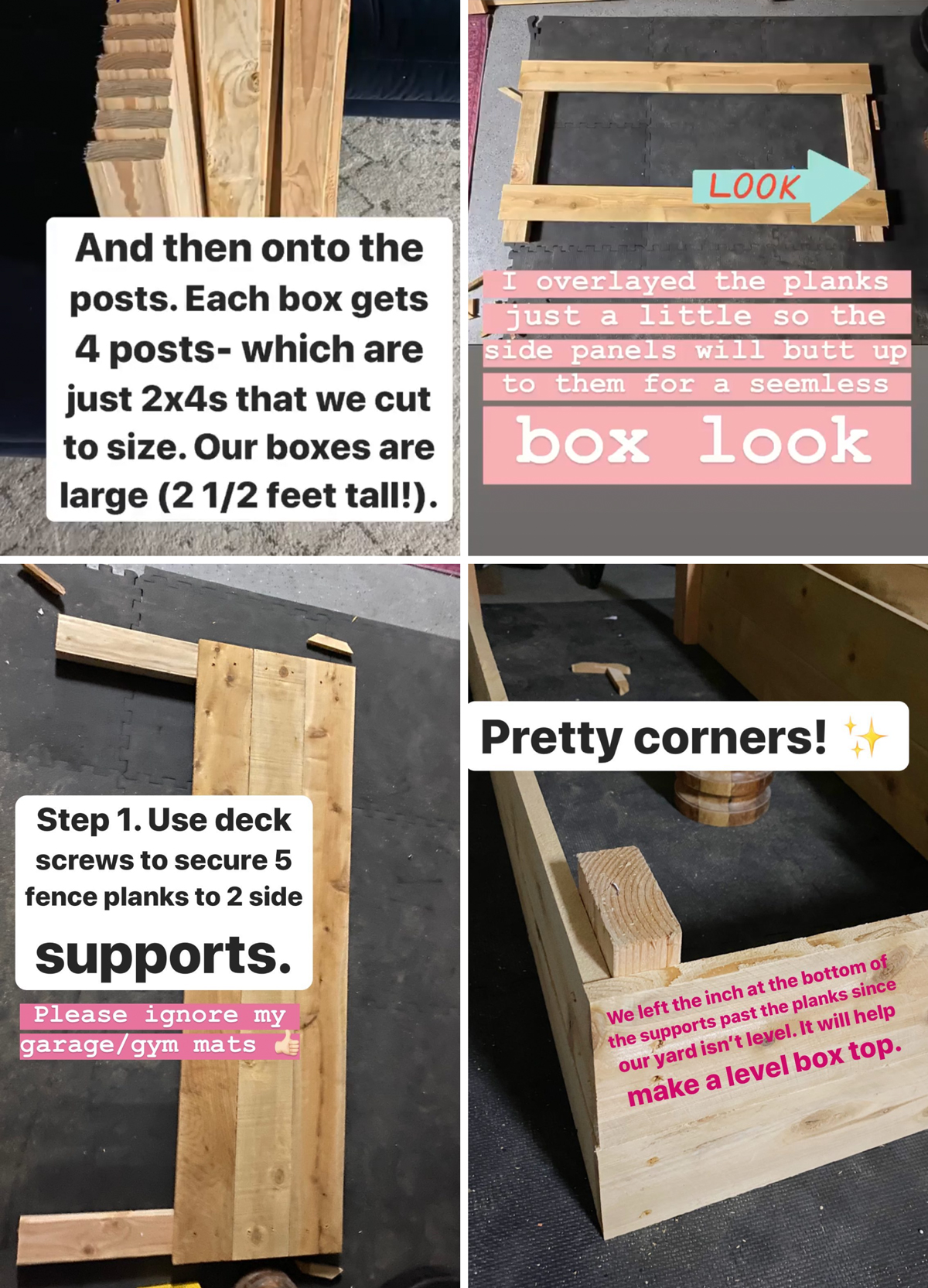 Step-by-Step Instructions:
1. Measure
Measure and mark the area where you want to build your raised garden bed. Ensure that it is level, and mark the corners with a stake or spray paint.
2. Cut The Wood
Cut the wood planks to the desired length. We recommend a length of 8 to 12 feet, depending on the size of your garden bed.
3. Nail It Together
Nail the wood planks together to form a rectangle, using 3 to 4 nails per corner.
Be sure to use galvanized nails to prevent rust and ensure durability and sink the nails in as much as possible while you have the hammer in your hand.
Repeat step 3 with additional wood planks until you reach the desired height for your garden bed.
A height of 18 to 24 inches is recommended to ensure sufficient soil depth for your plants. Leave a portion of the 2×4's visible at the bottom, this will allow you to hammer the bed into your yard and provide a way to ensure the top of the bed is level once installed.
3. Make The Raised Garden Box Into A Rectangle
Overlap the sides as you go to create your rectangle box. I did this by nailing the two long sides together with a small overlay (as shown in the photo above) and then nailing in the end pieces once that was completed.
Things to Look Out For:
Ensure that your garden bed is level once installed to prevent water from pooling in one area.
Make sure to use galvanized nails to prevent rust and ensure durability.
Avoid using treated wood as it can contain chemicals that can be harmful to plants.
Do not use too much pressure when nailing the wood together as it can split the wood.
Tips for Making Your Garden Beds Last:
Use high-quality wood such as cedar or redwood, as they are naturally resistant to rot and insects.
Apply a coat of sealant to the wood to protect it from moisture and prevent rot.
Avoid overwatering your plants, as excess moisture can cause the wood to rot.
Consider adding a layer of rocks or gravel at the bottom of your garden bed to improve drainage and prevent water logging.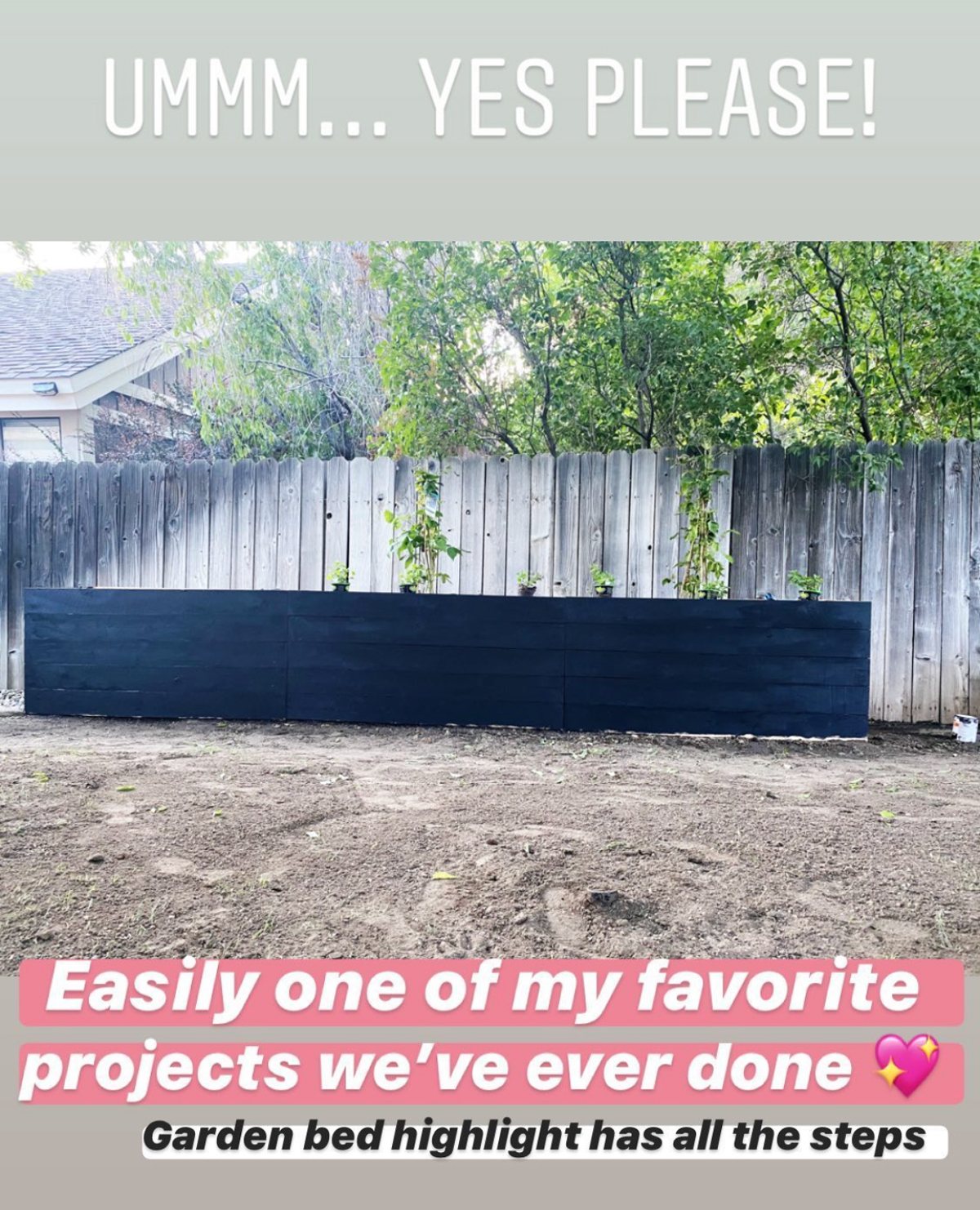 Stained Wood Garden Bed That Holds Up To Outdoor Weather:
If you choose to stain your wood garden bed like I did, it is important to use the right type of paint/stain that can withstand outdoor weather. Here are the steps to follow:
Choose a wood stain that is that is water-resistant, UV-resistant, and can withstand temperature changes. This is the one I used and it has held up great so far.
Sand the surface of the wood with fine-grit sandpaper to create a smooth surface for the paint to adhere to, unless you used the cedar fence planks, those are already rough enough I found.
Apply a coat of stain to the beds with a rag and be SURE TO WEAR GLOVES! Lesson learned the hard way. 🙂
Once the stain is dry, apply 2 to 3 more coats, following the manufacturer's instructions for drying time between coats.
Optional: Apply a coat of sealant to the stained surface to provide additional protection against moisture and UV rays.
Staining our wood beds made for a fun contrast having the black agains the raw wood bench and greenery of the plants.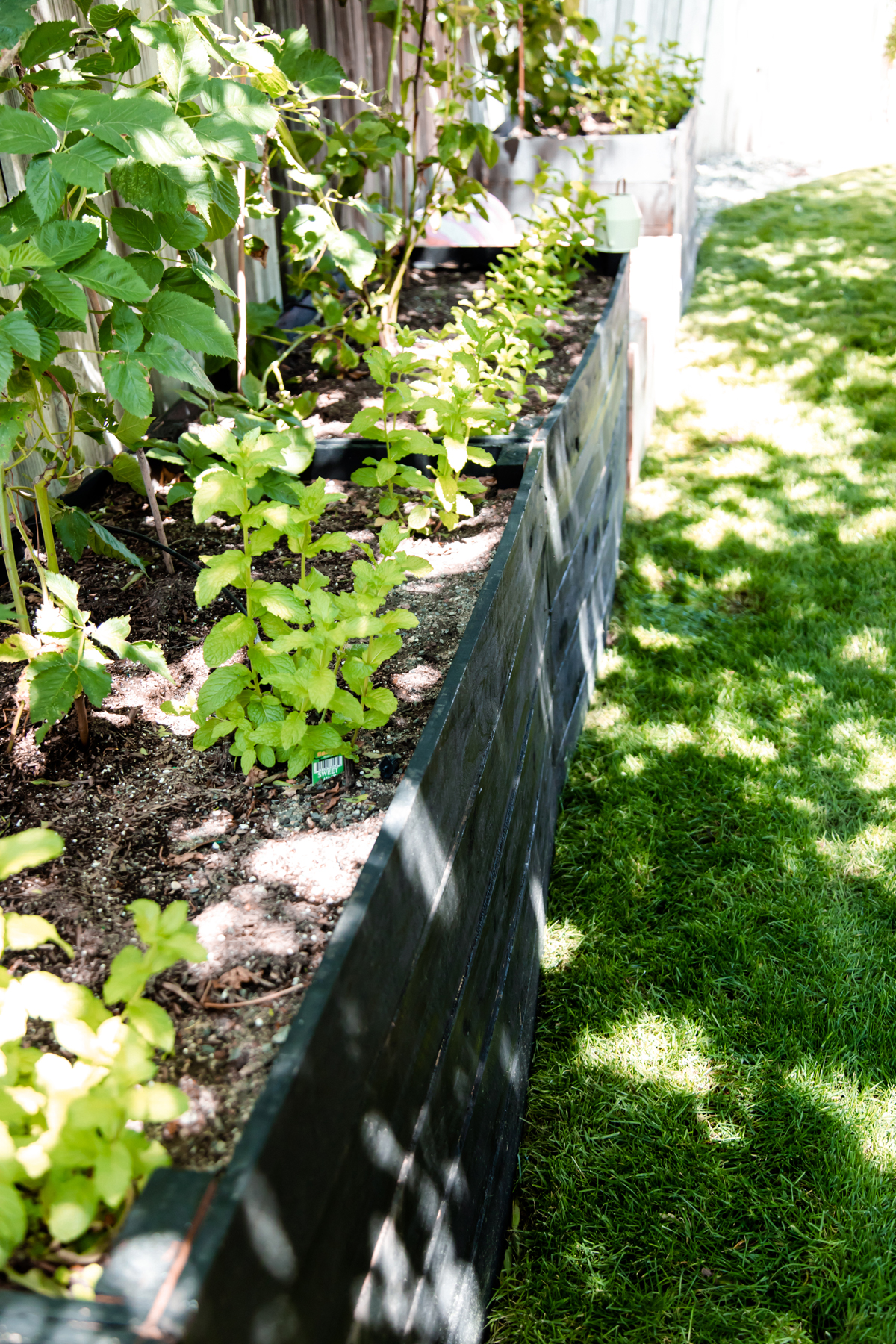 Tips For Putting Soil In The Garden Beds With Good Drainage
Use a well-draining soil mix
To ensure that your raised garden bed has good drainage, it's important to use a soil mix that is well-draining. This can be achieved by mixing sand, perlite or vermiculite with your soil to improve drainage.
Add organic matter
Adding organic matter such as compost, aged manure, rocks or leaf mold can help improve the structure of your soil and increase drainage.
Create drainage holes
If your raised garden bed doesn't have good drainage on the bottom, you can create them by drilling holes in the back of the bed (whatever side will go against the fence). This can be helpful if you live where the ground is very hard, or if you didn't build your beds high enough to add drainage material. This will help excess water to drain away from the roots of your plants.
Instructions On How To Plant A Raised Garden Bed:
Step 1. Plan your garden
Before planting your raised garden bed, it's important to plan what you want to grow and where you want to place each plant. Consider the sunlight and spacing requirements for each plant and create a layout that allows enough space for each one to grow. It is helpful sometimes to map this out beforehand.
I knew I wanted to have blackberry bushes in the back, so I looked here to see what would grow well with them. I ended up choosing mint to fill in the soil and support the fruit vines growing.
Step 2. Prepare the soil
Once you have planned your garden, it's time to prepare the soil. Add your rocks, compost etc to the raised garden beds and then add in the soil and mix well to ensure that the soil is nutrient-rich and has good drainage.
Step 3. Plant your plants
When planting your wood plank garden bed, make sure to follow the spacing requirements for each plant.
Plant taller plants towards the back of the bed and shorter plants towards the front to ensure that all plants get enough sunlight.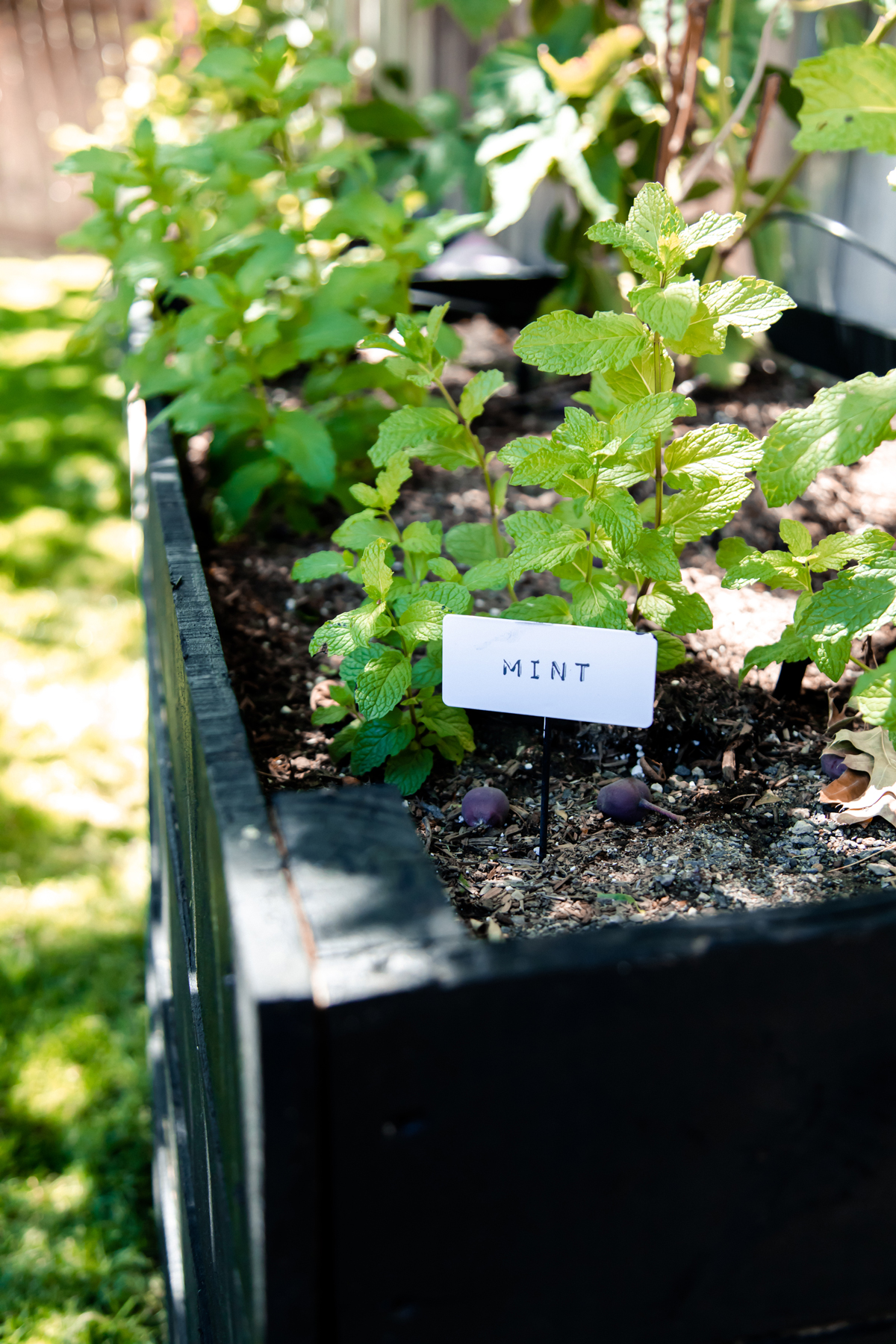 Step 4. Water your plants
After planting your garden, water your plants thoroughly to help them establish roots. Make sure to water your plants regularly and check the soil moisture levels to avoid over or under-watering. I had a drip line set up for ours that does the work daily for me, which is a nice touch. You can run a drip line through the back of the beds for a seamless look.
Step 5. Mulch
Adding a layer of mulch on the top after you've planted your raised garden bed can help retain moisture in the soil and prevent weed growth. Use organic materials such as shredded leaves, straw or grass clippings as mulch.
Step 6. Monitor & Maintain
Regularly monitor your garden for pests and diseases and weeds! Take care of your new plant babies after all this work 😉 Also, regularly add compost or other organic matter to the soil to keep it nutrient-rich.
By following these tips and instructions, you'll build a raised garden bed that provides good drainage and supports healthy plant growth.
Making A Cute Connecting Garden Bench Seat
To finish off our garden beds, I wanted to create a cute little bench seat.
Here are the simple instructions on how to create a similar bench seat to put between 2 of your garden beds made out of the left over cedar plank fence posts nailed together.
Supplies
4 cedar plank fence boards (4 ft long)
3 cedar plank fence boards (5 ft long)
3 2×4's measured to the width of your bench
2.5-inch outdoor screws
Drill
Saw
Measuring tape
Instructions
Cut the fence planks
Use a saw to cut each cedar fence planks to size and the 2×4's to the width of your bench seat.
Nail the structure together
Start by screwing the longer pieces directly to your garden beds, overlapping in the front to create your bench seat front with connection.
Now screw in the 2×4's to the garden beds on each side to provide seating support and structural stability.
Create the seat
Take the remaining shorter fence planks and screw them into the 2×4's on the top to create your bench seat.
Finish the bench: Sand the edges and corners of the bench to remove any splinters. Stain or paint the bench to protect it from the elements, or leave it raw for contrast like I did!
It's my favorite little garden spot to sit and enjoy the space.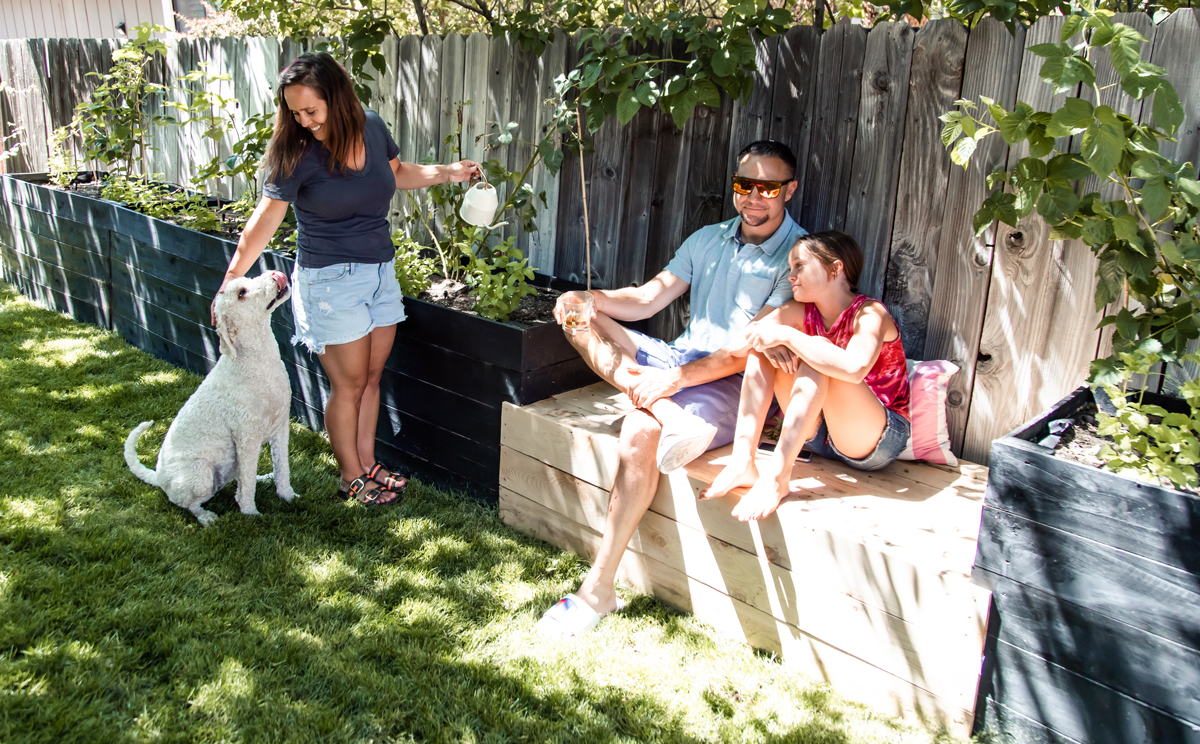 Tips For This Making Outdoor Small Yard Garden Project
Before purchasing your fence posts and boards, make sure to measure the space between your garden beds to ensure the bench will fit properly.
To make the bench seat more comfortable, consider adding cushions or pillows when you are done. 🙂
If you want a more rustic look – like I did, you can leave the bench seat unfinished and allow it to weather naturally over time.
Cedar is naturally resistant to rot and decay, making it a great choice for outdoor furniture. However, it's still important to protect the bench with a sealant or stain to extend its lifespan.
Hope this was helpful as you tackle your outdoor yard this year. Know that you can create a beautiful and functional bench seat & the best raised cedar wood plank garden beds no matter how limited your yard space might be. It doesn't have to be huge to be beautiful after all!